Best Fish & Chips in Leeds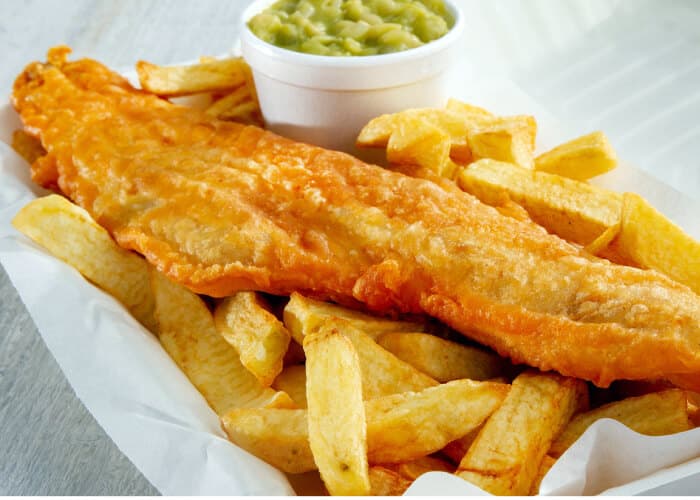 A loverly little ad break! Continue reading below.
Arguably one of Britain's favourite ever dishes; said to have been brought over to the UK by Jewish immigrants in the 16th century; influenced by the culinary culture of Spain, Portugal and the Netherlands. 
This is when the fried fish met the chip, and the rest is history.
We've considered what makes the best fish and chips. The sauces and sides; secret batter ingredients; with a beer or a can of fizzy; the cut of potato; a sit down scran or takeaway; gluten free without sacrificing the taste; and of course it wouldn't be Yorkshire if it wasn't value for money – short in t'arm and long in t'pocket! 
With all this considered, below are the best 20 fish and chip shops from across Leeds.
Wetherby Whaler
Address: Otley Rd, Guiseley, Leeds LS20 8LZ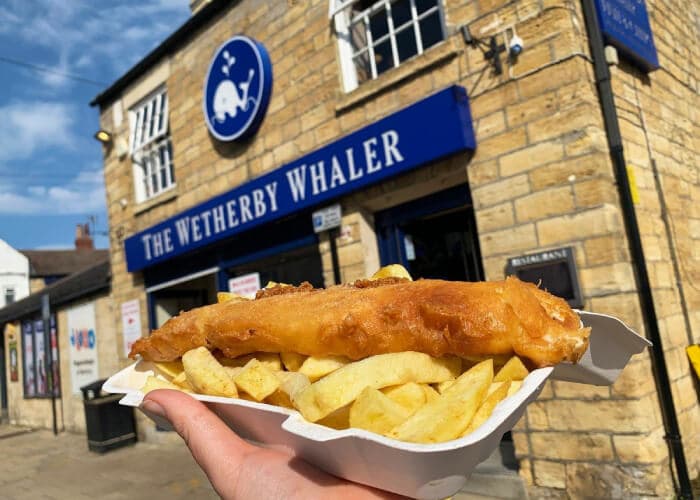 Cost of Regular Fish (Haddock) and Chips:  £13.95
The Wetherby Whaler is the original Whaler. Since 1969 this flagship restaurant has been serving award winning fish and chips.
The most popular fish for fish and chips is at the Whaler. So good they were the winner of the region's best fish n chips in 2020. Also probably one of the most picturesque places to eat fish and chips in our Leeds' fish and chip list. Perch yourself on a bench, on the edge of the River Wharfe; or sit in the iconic restaurant with a pianist playing on the weekend.
In 2021 the Whaler officially became the 'nation's fish and chip icon'. Four million packs of Walkers fish and chip flavoured crisps – inspired by the shop – left the shelves! 
The Wetherby Whaler is collection only.
More on the Wetherby Whaler.
Portside Fish & Chips
Address: 382 Kirkstall Road, LS4 2HQ
Cost of Regular Fish (Haddock) and Chips:  £9.99
They've made a decent splash in the short time that the Kirkstall Portside Fish & Chips has been around. Everything is fried in vegetable oil; there is both vegan and gluten free fish and chip options available making the menu inclusive to your dietary needs. 
Haddock and chips are the centre piece on the menu. There are also other firm favourites like pies, scampi and sausages to choose from. 
The real stand-outs at Portside are the secret chip seasoning that makes the chips golden and delicious. And they even have jars of pickled eggs as a tasty throwback! 
In 2023 Portside made it into the top-50 of fish and chip shops – via the Fry Awards – in the UK. 
More on Portside Fish & Chips
Maypole Fisheries
Address: 28 Cross Grn, Otley LS21 1HD
Cost of Regular Fish (Haddock) and Chips:  £8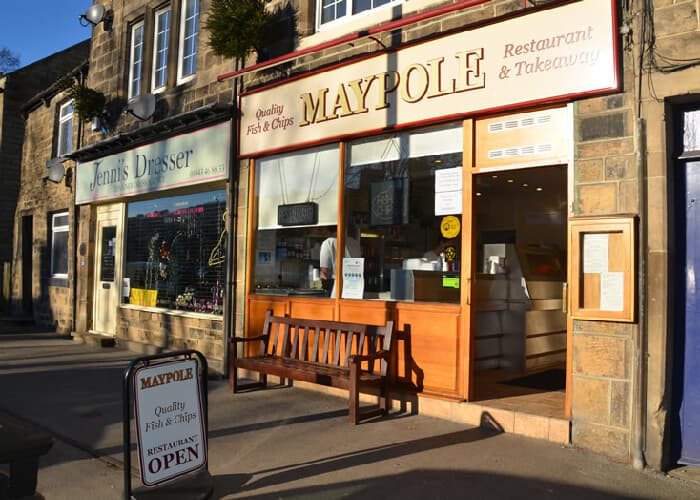 The Maypole Fisheries is arguably one of the best fish and chip restaurant in Leeds. 
Let's talk about batter. The Maypole comes up trumps as having some of the tastiest in Leeds, and unsurprisingly the batter ingredients are a hidden secret. 
Cooked traditionally in beef dripping or coated in the "best gluten free batter that I have ever tasted" according to one customer we spoke to. Either way you'll be treated to a crispy and succulent portion of fish and chips. And why not grab one of their fizzy drink classics: dandelion & burdock, cloudy lemonade, bitter shandy or cream soda.  
The Maypole is a great place to eat from when passing through Otley, maybe on the way to your next adventure in the dales? 
Be prepared to wait for a table if you come for a sit down meal. The restaurant space is a snug and cosy size.
More on The Maypole Fisheries.
The Wharfe Fish & Chips
Address: 17 Bridge St, Otley LS21 1BQ
Cost of Regular Fish (Haddock) and Chips:  £10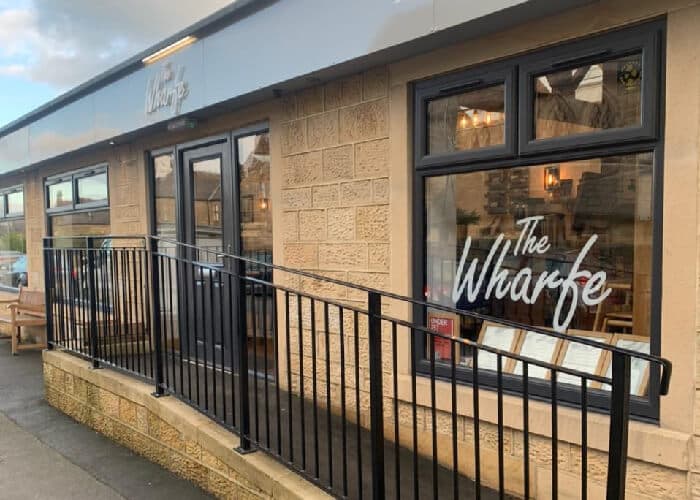 For a sit down fish n chip meal you won't do much better than the Wharfe. The bright airy restaurant space is a touch of class. Who said you couldn't have a fancy chippy!?
The Wharfe is a place you might have to rein it in and have fish and chips without beer. With a bigger restaurant space the Wharfe is healthy competition to its close neighbour – the Maypole Fisheries. 
Reportedly the Wharfe has the best chips and curry sauce in the area, but we advise that you go and test that theory out yourself. 
If you're looking for a slightly different twist on a fish supper, this place has a really popular fish pie. Collection is also available at the Wharfe.
More on The Wharfe Fish & Chips.
Fisherman's Wife
Address: Leeds Kirkgate Market, LS2 7HY
Cost of Regular Fish (Haddock) and Chips:  £15.99
The Fisherman's Wife is a renowned Whitby fish restaurant; they've been serving up fish and chips to Leodians' for decades.
The Fisherman's Wife found its newest home in Kirkgate Market, the biggest indoor market in Europe. 
You can sit down outside the unit on one of the tables and enjoy your chippy in a lively bustling market space. With stiff competition coming from other street food vendors, the Fisherman's Wife is proving how good it is. 
The Fisherman's Wife is renowned for frying juicy, meaty, white haddock in crispy light batter. The chips are golden and chunky. If you fancy something a little different, we recommend you try the whole-tail scampi, battered sausage or a classic chip butty.
After you've eaten there's over 800 bazaars and stools to explore in the market.
More on The Fisherman's Wife.
Fish Out
Address: 27 Wellington St, Leeds LS1 4EA
Cost of Regular Fish (Haddock or Cod) and Chips:  £9.25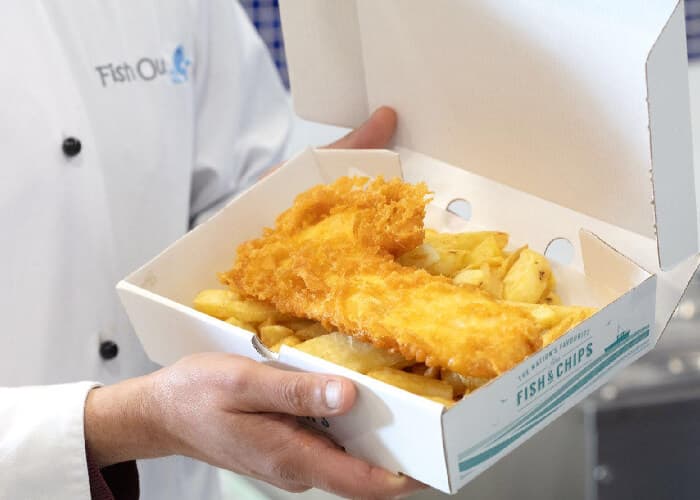 Fish Out is one of the most central fish and chip shops in the heart of Leeds. The reputation of this chippy is it's an undiscovered hidden gem.
Fish Out recently made the Yorkshire Evening Post top-10 chippies list. It's safe to say that it's a top rated fish and chip shop. And it does this while taking a risk. 
Alongside the haddock classics you can order things like halloumi bites and fish goujons; the batter is fancied up with lemon, garlic and herb flavours. 
Fish Out is the closest and most accessible chippy to Leeds train station. Making it an ideal pitstop for commuters travelling in and out of the city. 
You can click and collect and order for delivery too.
More on Fish Out.
The Oxford Place
Address: 2 Oxford Pl, Leeds LS1 3AX
Cost of Regular gluten free Fish (Haddock) and Chips:  £16.95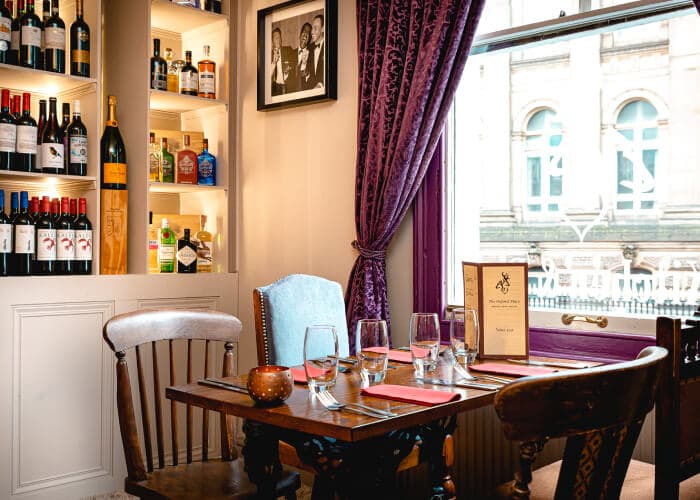 The Oxford Place is a gluten free restaurant serving up gastro style dishes. This family owned restaurant has created a warm and inviting environment to dine in.
Tucked away behind the town hall; the Oxford Place is currently the only gluten free restaurant in Leeds. You're probably wondering why it's made our best fish n chip list, it's because it's probably serving up the best gluten free fish and chips in the city!
The atmosphere is cosy and warm; the service is attentive. This is all about eating fish and chips in style. 
Don't be fooled by the class, the portions are still generous. It's so good that you will keep questioning if it is really gluten free.
More on The Oxford Place.
Saltd & Batterd
Address: 210 Woodhouse Ln., Woodhouse, Leeds LS2 9DX
Cost of Regular Fish and Chips:  £5.95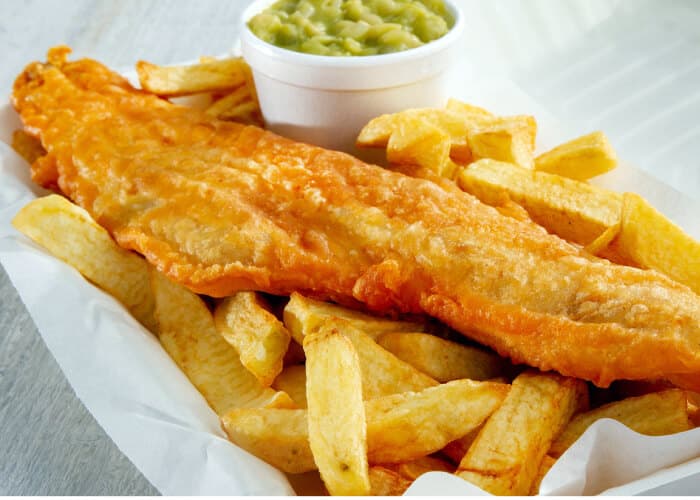 Saltd & Batterd is a slick looking fish and chip shop in Woodhouse. The menu combines the traditional chip shop favourites but done a little differently.
Everything at Saltd & Batterd is fried in non-hydrogenated vegetable oil. It's the place that does fish for dinner whatever your dietary requirements are. 
Take the popular vegan 'vish' and chips made from banana blossoms. Or the unusual but tasty process of frying a chunky piece of haddock between 2-scallop slices, in a special batter mix. 
Saltd & Batterd practically serves Leeds University and is opposite the famous Parkinson steps. It has a decent space to sit down and eat; collection and delivery are both available. 
More on Saltd & Batterd.
Kirbys of Meanwood
Address: 24 Stonegate Rd, Meanwood, Leeds LS6 4HY
Cost of Regular Fish (Haddock) and Chips:  £8.95 
Kirby's is the contender for the oldest and longest running chippy in the city. This frying establishment has been doing its thing for over 100-years. They made it into the Top 50 Chips Shops in the UK rundown!
At Kirby's of Meanwood all the fish is always cooked to order. You might find yourself asking: what is fish and chip shop batter made from? Incredible what they have done with water and flour. 
The batter is really good at Kirby's and this extends to a great gluten free offer. Expect lots of generous scraps piled high on top of your fish and chips. 
Kirby's is one of the best places for any fish and chip fan; signup for a loyalty card scheme that will reward you for coming back.
Collection is available and you can order via the online shop.
More on Kirbys.
Mother Hubbard's
Address: 52 Harehills Rd, Harehills, Leeds LS8 5PB
Cost of Regular Fish and Chips:  £7.95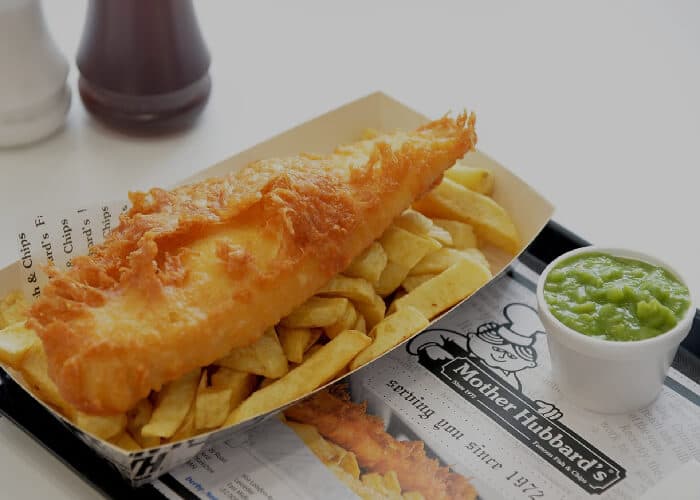 Mother Hubbard was born in 1972 and raised in Bradford. This proper Yorkshire fish and chip shop chain is now filling the bellies of happy customers in Harehills.
From the flagship Mother Hubbard in Bradford to the satellite restaurant in Leeds. Mother Hubbard's are competing for the best in Yorkshire title. One of the biggest pulls of Hubbard's is the range of portion sizes that cater for both the big and little appetites. 
The 20oz fish aka the 'super jumbo' is enough to feed a family of 4 or 2 very hungry adults. For those fancying something smaller why not try the bite size fried fish pieces – goujon anyone?
The halal and vegetarian friendly food options make this fish n chip restaurant appealing to a wider range of people. You can take-out or eat in the restaurant space and served by the very friendly staff team.
More on Mother Hubbards.
Oceans
Address: 44-46 Austhorpe Rd, Cross Gates, Leeds LS15 8DX
Cost of Regular Fish (Haddock) and Chips:  £9
Oceans is one of the best fish and chip takeaways and restaurants in Crossgates and arguably the east of Leeds. In 2023 this chippy made it into the top-40 national fish and chip awards. As well as #1 for the Leeds Live "Best fish and chips in Leeds" vote.
Oceans pride themselves on receiving the best hygiene rating every year. An award that can only make your fish and chips better. 
You'll pull apart the beautiful white fish in light crispy batter. If you're still undecided on what sauce goes with fish and chips. You might find it a little difficult to decide between the gravy, curry, or peas, because it's all delicious!
For the family Oceans come up trumps by excelling with the small touches. Like providing colouring books to keep the little ones entertained. On a nice day you can eat your fish and chips around the corner in Manston Park.
More on Oceans.
The Skyliner
Address: 11-15 Austhorpe View, Whitkirk, Leeds LS15 8NN
Cost of Regular Fish (Haddock) and Chips:  £12.50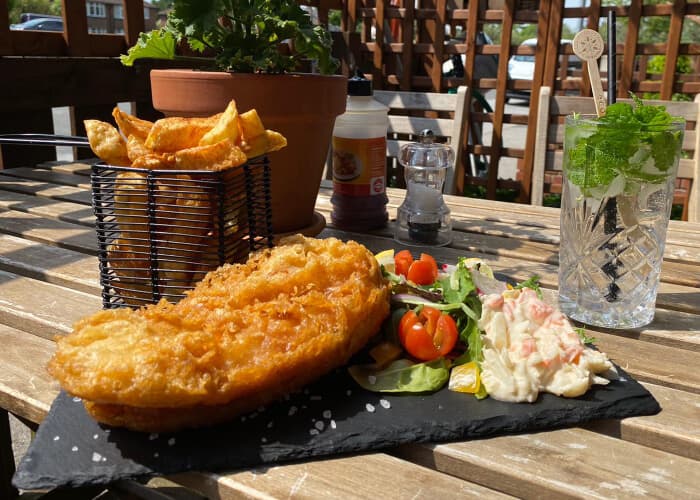 The Skyliner is a family run fish and chip restaurant in east Leeds. It was recently voted 'one of the best chippy' by Leeds Live readers.
The Skyliner is the kind of fish and chip restaurant that mixes the old with the new. You might be one of those people that like bread and butter, and a teapot for two with your jumbo fish – a 16oz here! Or, you might do it a little differently by having the fish tapas platter, washed down with a cocktail. Both are on the menu at the Skyliner. 
If your google search for "fish and chips near me" leads you straight to this place, then be warned that you might hit the back of the cue, winding out the door at peak times. Inside the waitress service – polite, helpful and lovely – is one of the best attributes at the Skyliner. And additions like the little book library outside just add even more to this fantastic chippy.
More on The Skyliner.
Murgatroyds
Address: Harrogate Road, Yeadon, Leeds LS19 7BN
Cost of Regular Fish (Haddock) and Chips:  £9.50 
Murgatroyds is a diner style fish and chip restaurant in Yeadon. Originally named after local businessman Billy Murgatroyd who lived by the line: "Why settle for less than t'best?"
The type of fish used at Murgatroyds is a tasty piece of wild caught haddock. Cooked in beef dripping, the haddock naturally falls apart in a flaky mess – there's nothing nicer! 
Whatever your appetite you're covered with the 'big'un' aka a giant haddock to the children's mini-menu option. And the restaurant is really accommodating on request with options like a gluten free fish batter cooked in vegetable oil. 
Whether it's a sit down diner meal or a quick takeaway. Murgatroyds is around the corner from Leeds Bradford Airport, which makes this fish n chip restaurant an ideal pre-or-post holiday meal.
More on Murgatroyds.
Woodside Fisheries
Address: 274 Low Ln, Horsforth, Leeds LS18 5DN
Cost of Regular Fish and Chips:  £8.25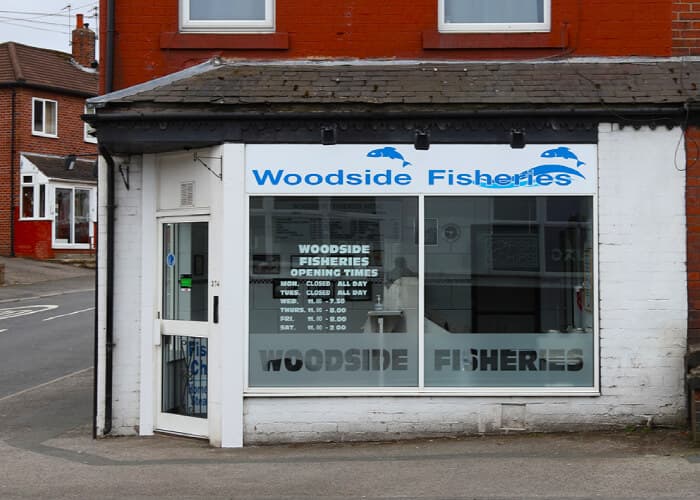 Woodside Fisheries is a strong competitor for the best chippy in Horsforth.
When we say that Woodside Fisheries is one of the best chippy's in Horsforth. We're talking more about what else this place serves alongside the staple fish and chip dinner. 
The menu at Woodside is interesting. Take the meaty twist on a haggis fritter or the battered cheese burger. There's the homemade steak pie that is a roaring success – lots of customers go for the pie chips gravy and mushy peas or mint sauce. 
For those looking to wash your chippy down with a beer, there is a micro brewery-pub a few doors up from Woodside Fisheries. And this chippy comes through reliably on fish and chips Leeds delivery.
More on Woodside Fisheries.
Ritz Fisheries
Address: 2 Lower Wortley Rd, Leeds LS12 4TE
Cost of Regular Fish and Chips:  £10.25 
Ritz Fisheries is a quality fish and chip shop. It's been part of the Wortley community for decades!
If you're working out what is the healthiest option at a fish and chip shop? Look no further than trying the popular fish butty. It's the healthiest option minus a proper portion of chips – that simple!
Many fish and chip shops get quoted as being the best in Leeds but quite a few people think Ritz is challenging for this accolade on a national scale. A quality "equalled only in Whitby, Brid, Filey, Brighton, Blackpool, Hastings and Scarborough" according to one customer.  
It's worth getting yourself down to test the fry out at Ritz Fisheries; and keep an eye out for the rotating specials selections. 
Takeaway and delivery is available.
More on Ritz Fisheries.
Original Fisheries
Address: 433 Leeds and Bradford Rd, Bramley, Leeds LS13 2AZ
Cost of Regular Fish and Chips:  £7 
A family run chip shop that has been frying in Bramley for over a century. Original Fisheries made the top-5 fish and chip shops in the UK in 2022.
The nation's favourite meal is cooked the old way in beef dripping at Original Fisheries, complimented nicely by sides like mushy peas and curry sauce. The chips can't be understated here – soft inside and done well on the outside – which isn't always the case at mediocre chip shops. This is all served by a team of very friendly staff too!
Original Fisheries is just around the corner from the stunning Bramley Fall Park and the Leeds Liverpool canal. An ideal fishing spot, but one we don't expect much haddock to be swimming upstream in!
More on Original Fisheries.
Croft Street Fisheries
Address: 2 Croft St, Farsley, Pudsey, Leeds LS28 5HA
Cost of Regular Fish (Haddock) and Chips:  £8.75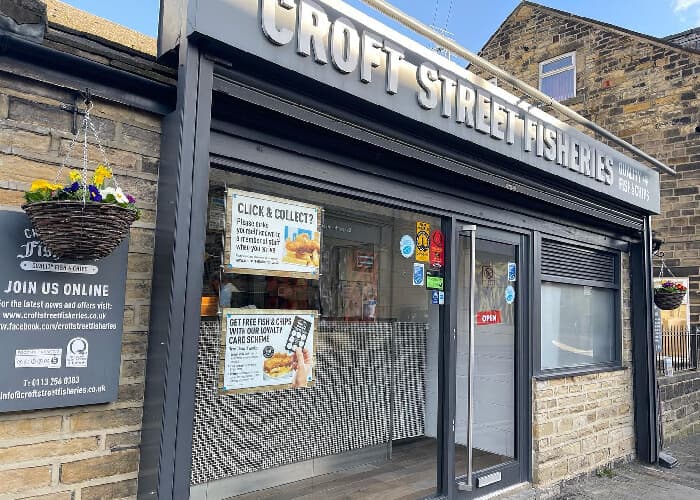 A Farsley favourite that has been recognised beyond the boundaries of Leeds. Croft Street Fisheries is officially one of the 50-best fish and chip takeaways in the UK, as judged by the 'Fry Awards'.
Is fish and chips healthy? Not at Croft Street Fisheries! And that is not a bad thing. The fish and chips are fried in beef dripping. The batter is golden and crispy. And the curry sauce is made in the old style – a commodity these days!
If you're a fish and chip fanatic Croft Street Fisheries has a loyalty scheme that's calling your name. 
There are 3-green-spaces – including Hainsworth and Westroyd Park – within a 5-minute walking distance from Croft Street Fisheries. Making this a chippy with one of the greenest areas around it in Leeds.
More on Croft Street Fisheries.
The Bearded Sailor
Address: 1 Robin Ln, Pudsey, Leeds LS28 7BN
Cost of Regular Fish (Haddock) and Chips:  £9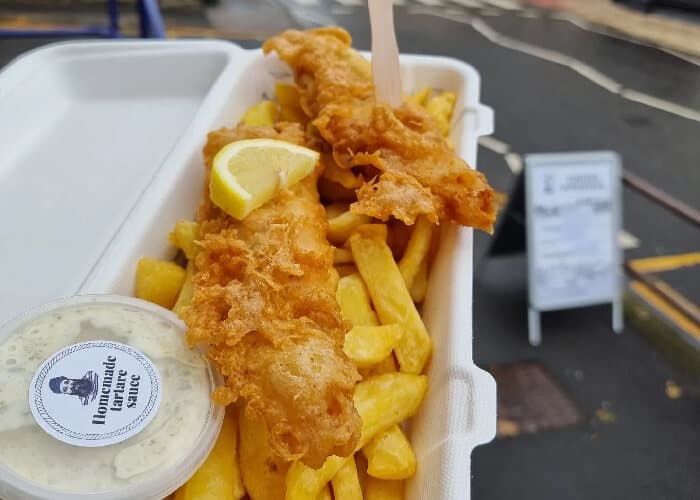 The Bearded Sailor is one of the finest sustainably sourced fish and chip takeaway restaurants in Leeds.
A fish and chip restaurant that immediately catches the eye with its seafaring vibes. The ship seating and bearded artwork hanging from the walls aren't just novelty. 
The Bearded Sailor is lovely for a sit down fish and chip meal with the family. Since opening in 2017 it's received nationwide recognition. Making the top-10 for new chippies in the UK that same year!
When it comes to ingredients the Bearded Sailor prides itself on using sustainably sourced high quality food. Be warned you will pay a premium for this. What potatoes do they use? It's strictly UK farmed. And the Icelandic haddock is of the highest grade. 
Small touches like the colouring competitions for the kids and loyalty cards for the parents show the attention to detail the Bearded Sailor puts in.
More on The Bearded Sailor.
Hunslet Carr Fisheries
Address: 2 Belle Isle Rd, Leeds LS10 2DJ
Cost of Regular Fish (Haddock) and Chips:  £7.50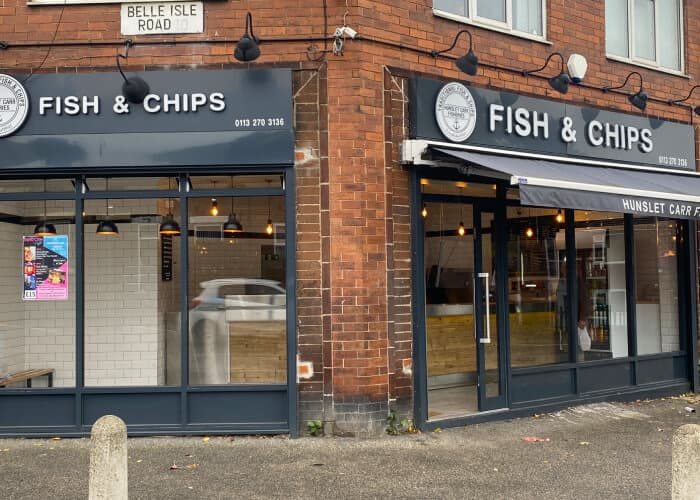 Since Hunslet Carr Fisheries started frying in 1991 they've become a reliable and quality fish and chip shop in Belle Isle.
Hunslet Carr Fisheries are a solid contender for traditional fish and chips done well at great value for money. The fish and chips price is one of the best in the city for what you get. Alongside the chunky haddock, the fish cakes are a hit at Hunslet Fisheries too!
Tradition runs through this chippy, from the service to the cooking, even to how the fish and chips are served – the old fashioned way wrapped in paper. Hunslet Fisheries is one of the nearest chippies to  Leeds Dock. Takeaway and delivery are available.
More on Hunslet Carr Fisheries.
Graveleys
Address: 261 Elland Rd, Beeston, Leeds LS11 8TU
Cost of Regular Fish (Haddock) and Chips:  £9.50 
The original Graveleys of Leeds. Serving up fish and chips in Beeston to the hordes of Leeds United fans on match days.
Fish and chips at Graveleys is consistently super fresh and tasty, all at a reasonable price. The unique selling point at Graveleys is more like the start of many northerner's dreams… chips covered in gravy… it's reyt good here! 
Graveleys is the unofficial fish and chip shop for Leeds fans on a match day. Whether you're home or away, the friendly atmosphere extends to anyone and everyone, including the four legged ones. It's a dog friendly chippy.   
On a good weather day Graveleys Elland Road comes with an outdoor seating area to enjoy your fish supper outside.
More on Graveleys.
The Mermaid
Address: Britannia Rd, Morley, Leeds LS27 0DT
Cost of Regular Fish (Haddock) and Chips:  £14 
The Mermaid is a fish and chip restaurant from the era of fish and chip dining that's iconic. This one was opened by Sir Terry Wogan in the 70s!
Fish and chips Morley and you can't go wrong with a trip to the Mermaid. The nation's favourite comes with stand out extras; gourmet bread boards and homemade tartar sauce are just a few! And the chips and mushy peas get regular shout outs for being the tastiest additions at the Mermaid. 
You'll be taken care of from start to finish with free refills on tea and coffee. The restaurant comes with a really large car park. Whatever your mood you're also covered with all 3 services available at the restaurant – sit down, collection and delivery.
More on The Mermaid.