Guide to Hosting Events and Activities in Leeds' Parks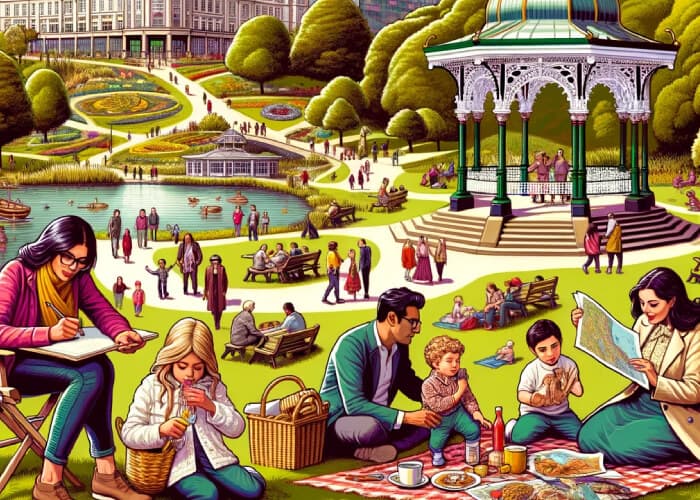 A loverly little ad break! Continue reading below.
Leeds is a vibrant city with a number of green spaces ideal for events. Whether it's a corporate get-together, an exercise session, or a neighbourhood festivity, these parks are the perfect venue. Just under a quarter of the city of Leeds is green space, making it one of the greenest cities in the UK, and an ideal place to do more activities and events in the parks.
One example of a popular community-based park activity is parkrun. A global event with Leeds playing host to 11 of them. These events have become iconic, testifying to the allure and effectiveness of hosting activities in parks. 
We have broken down the roadmap to organising an event in a Leeds park. Everything from profit sharing, considering regulations, and what paperwork you have to fill out has been considered.
It is important to note that we have covered a lot in this article, and some of it may not apply to your activity planning. Sections such as 'Live Animal Licensing' are very specific, we have tried to cover as much as possible to be as informative as possible!
If this article is missing information, let us know at hello@discoverleeds.co.uk and we will get it updated! 
Tailoring for Event Size & Navigating Permissions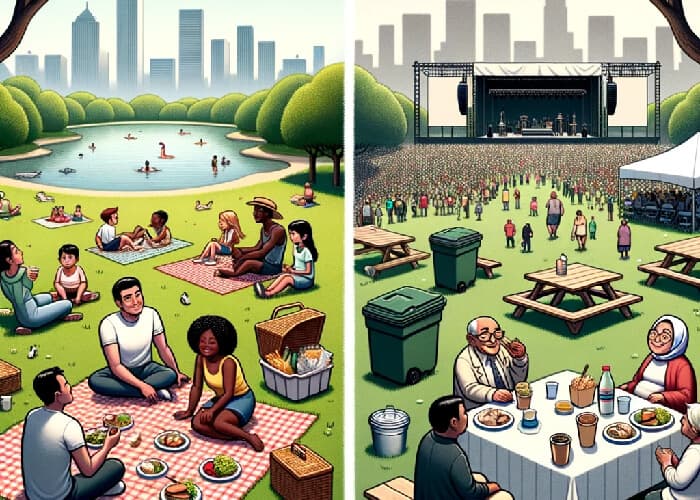 The size of an event will determine the specific permissions needed. Smaller events generally have more leeway in terms of regulations, while larger ones demand more rigorous adherence to Leeds City Council enforced rules. Rules around items such as  waste management, safety, and liability. It's important to be attuned to these factors, ensuring your event abides by the mandates expected of  its size.
Any event, big or small, requires certain permissions.
First Step
The first step in the process is to contact Leeds City Council parks department. Depending on the details of your activity the parks department will take you through the process of planning and authorisation, and a general quality assurance of what you're doing. 
While smaller gatherings, like a fitness camp with six attendees could operate below the council's radar, it's the larger recurring events that demand strict adherence to rules, particularly if there's a fee involved. 
When Permission is Needed
Hosting a formal event or session is anything that you want to open up to the public – free or at a cost. If you're just getting together with friends for an activity then this isn't included in a 'formal' public activity. The formality of delivering something for the public will bring you and what you do under the rules and regulations of Leeds City Council. It's important to consider this because once you are delivering a public event or session, you are liable for anything that can go wrong. 
Don't worry, that's why we're here to advise on the safest way to host an event or session in a Leeds park.  
When organising an event in a Leeds park, consider whether the event has the potential to disrupt a park's regular use. If it is likely to, the organiser should submit the necessary application to Leeds City Council parks department. 
A modest family picnic aligns with standard park activities and does not need permission. However the introduction of equipment or structures, like tables, music systems, or gazebos, necessitates prior notification and appropriate permissions.
Location Specific Rules
Initiating the process involves reaching out to the relevant authorities, ensuring you're abiding by the rules specific to each park. Each park will have certain areas that might be protected for one reason or another and each park may have some access restrictions.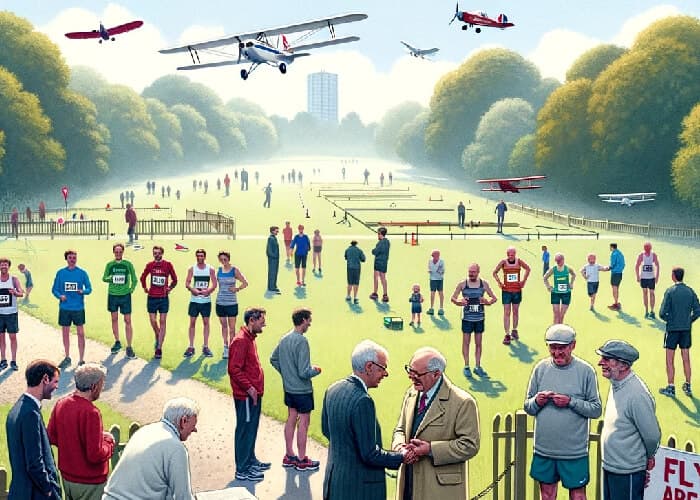 When Middleton parkrun was started at Middleton Park, the organisers had to negotiate with the Leeds Aeroplane Clubs access rights to after 10am on a Saturday morning because runners passed close to the fly area. To avoid barriers like this it's best to submit an event or session application to the council's parks department.
Booking Park Areas
MUGA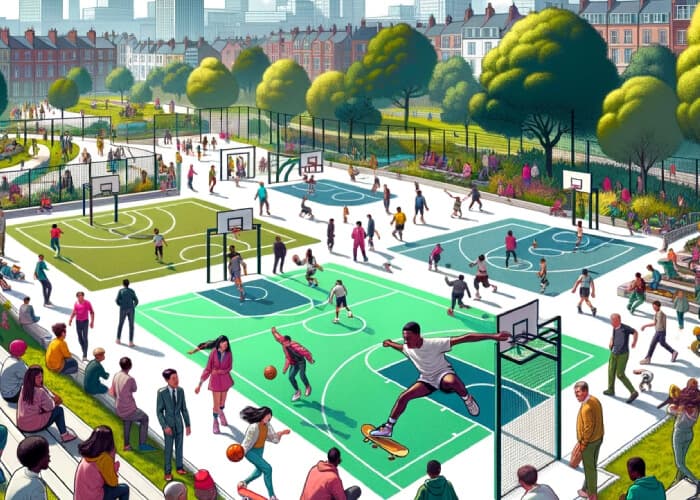 The MUGA (Multi-Use Game Area) functions as a public space within Leeds parks and as such, traditional bookings aren't applicable. However for specific activities like roller skating events the parks department needs to be notified. Proper documentation and paperwork such as public liability insurance, an activity risk assessment and trained first aiders delivering on the day will all contribute to a successful roller skating event.
It's also essential to note that while MUGA's are available for spontaneous recreational activities, if your event may draw larger crowds it will be beneficial to inform the council.
Bootcamps
Sports Activities
Depending on the scale and size of the sports session in the park the council will weigh up whether they will authorise organised sports in a park in Leeds. A big influence on this decision will be what you are delivering, where you are delivering it and how many participants are expected to attend.  
If the organised sport session is a commercial pursuit and you are making money then the parks department will consider this in your application; if you are charging participants money then some of these profits may need to be shared with Leeds City Council. Take a look at the section on Understanding Costs for more information.
Bringing Inflatables to an Event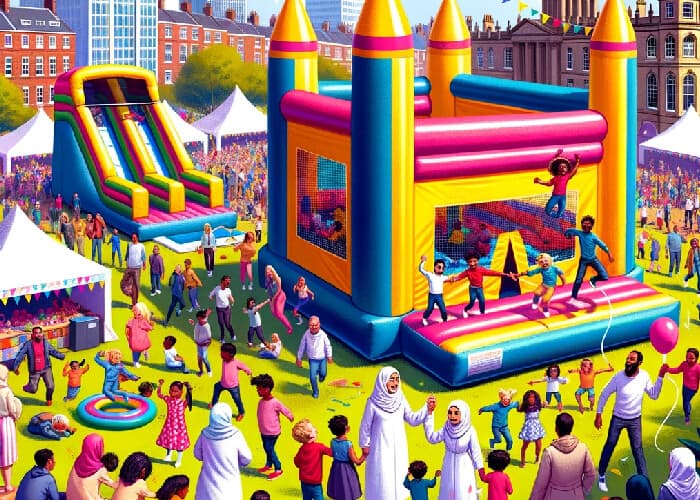 Parks and Countryside will only approve the use of inflatables possessing a current PIPA certificate. PIPA is short for the 'Professional Inflatable Play Association'. An inspection scheme set up by the inflatable play industry to ensure that inflatable play equipment conforms to recognised safety standards. 
Moreover, these inflatables should exclusively operate on diesel generators. For a deeper dive into these regulations, kindly refer to the informative links provided at the conclusion of this document.
We also recommend checking if there are any specific noise regulations, especially if the generator for the inflatable is particularly loud.
If you own inflatables, you can find an inspector from PIPAs website.
Licensable Activities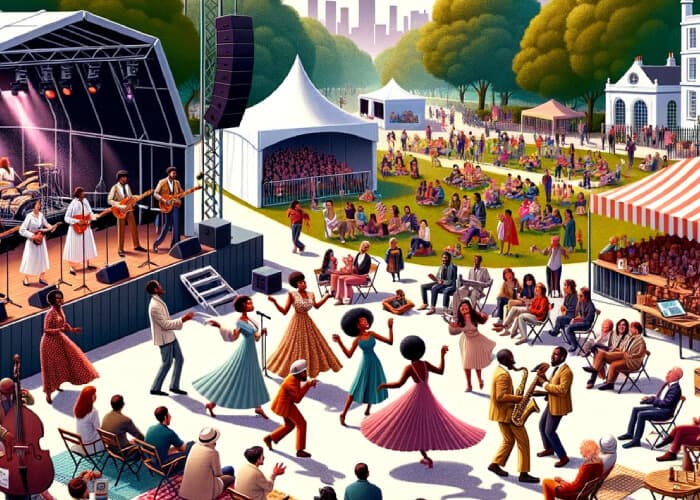 When organising an event in Leeds' parks, understanding the licensable activities and their requirements is paramount. Depending on the nature of the activities you intend to undertake, you might need to obtain a Premise Licence or a Temporary Event Notice (TEN). 
Events featuring licensable activities have to submit applications 130-days before the event date. Events without licensable activities can be submitted 30-working-days before the event – as long as they are accompanied by all necessary documents.
The below covers a number of other licence requirements, and the specifics of each.
Performance of a Play
The staging of theatrical performances, irrespective of their scale, falls under licensable activities. This ensures that the content and nature of the performance align with community standards and park regulations. 
Performance of Live Music
Whether it's a full-scale concert or a more intimate musical gathering, the performance of live music in public spaces like parks requires  proper licensing. This measure guarantees a harmonious blend of entertainment, safety, and respect for the park environment.
Dance Performance
Hosting a dance performance, be it contemporary, classical, or any other style, requires adherence to licensing norms. This not only ensures the safety and organisation of the event but also maintains consideration of other park users. 
Showing a Film
If you're considering setting up an outdoor movie night or a film screening, acquiring the right permissions is vital. This ensures that the content is suitable for public viewing and that the event logistics align with park guidelines.
Supply of Alcohol
Intending to serve alcohol at your event? It's crucial to understand that when alcohol is sold, supplied, or even gifted, a designated premises supervisor is required on site. This individual ensures the responsible and legal dispensation of alcoholic beverages, keeping the event enjoyable and compliant.
Playing Recorded Music
If your event features recorded music, a separate licence from the Performing Rights Society (PRS) is essential. You can secure this licence via www.prsformusic.com.
Temporary Structures and Staging
If you plan on having temporary structures like stages or tents, it's important to ensure that they are securely anchored and safe for use. Check with the park regulations and  get them inspected prior to the event. It might also be wise to check the weather forecast and have contingency plans for unexpected rain or wind, which can affect temporary structures.
Live Animals
Including live animals in an event introduces a unique charm. However, it's crucial to be well-informed about the regulations governing their participation, ensuring their well-being and the safety of event attendees. As well as having the correct documentation – always have someone knowledgeable about the animals present, to ensure their well-being during the event.
As of October 2018, any inclusion of live animals in Leeds park events necessitates that they possess the relevant licences or registration.
Birds of Prey and Exotic Animals
Creatures such as these, often captivating in their allure, must strictly follow the Performing Animals Regulations. This means organisers wishing to feature them must produce copies of certificates obtained from their licensing authority. This ensures that the animals are treated ethically, and their presence doesn't pose any unforeseen risks.
Donkey and Pony Rides
A favourite among many, these rides evoke memories of seaside escapades and country fairs. However, to maintain standards and ensure the well-being of these equines, it's vital that such rides possess a valid licence for a horse riding establishment. This licence not only ensures that they are fit for event participation but also holds them to high standards of care and management.
For those considering the inclusion of animals in their event, it's a blend of attraction and responsibility. Ensuring they have the appropriate permissions and adhering to guidelines is paramount. 
By doing so, event organisers create a harmonious environment where humans and animals can interact safely and memorably.
Understanding Costs
An event isn't without its costs. From permit fees to potential rental charges for special facilities, there's an array of expenses to consider. It's essential to distinguish between commercial events aiming for profit and non-commercial ones rooted in community participation.  
For instance, while a larger, profit-driven fitness group might encounter a different fee structure, smaller camps might be exempt from certain charges. It's also notable that commercial events might involve a profit-sharing model with Leeds City Council, whereas community-driven ones might have reduced or even waived fees. 
As an example a large commercial fitness deliverer like Buggyfit and British Military Fitness run sessions nationwide, and in Leeds. Due to the commercial nature of these park sessions they are contractually obliged to pay a percentage of between 1-2% of each participant's fee back to the council. 
A community-driven event like parkrun is organised in multiple parks across Leeds. This city-wide (and worldwide!) event does not have to pay Leeds City Council for hosting the Saturday morning event run because no participant is charged to take part. 
Accessibility & Infrastructure
Ensuring the smooth running of an event means being aware of and accounting for the park's infrastructure:
Parking
Many parks in Leeds have limited parking. If you expect a large crowd, think about providing shuttle services from a nearby parking lot or coordinating with local businesses for shared parking. Encourage attendees to use public transport, walk, or cycle where possible.
Disabled Access
Many of the parks in Leeds are accessible. You should still verify if pathways and other facilities are wheelchair-accessible. Depending on your event, you may need to arrange for additional ramps or other accessibility solutions. Remember to check the terrain in relation to the event's activities.
Public Transport
Look up nearby bus or train routes. Provide attendees with this information in advance, either on the event invitation or website, so they can plan their journey.
Toilet & Hygiene Facilities
Leeds parks may offer basic public restroom facilities, but for larger events, additional considerations are essential:
Portable Toilets
Depending on your expected turnout, renting additional portable toilets can be crucial. These rentals often offer a variety of options, including units equipped for disabled access.
Hand Washing Stations
With health and hygiene being paramount, consider setting up hand sanitising or handwashing stations throughout the venue, especially if your event involves food.
First Aid
Always be prepared for emergencies. Designate a visible area as a first aid station and, if possible, have a qualified first-aider present. Ensure they have a well-stocked kit and equipment like defibrillators if available.
Health and Safety
Health and safety is foreseeing and mitigating potential risk to participants. You can begin to do this by writing a risk assessment for your activities and delivery. A fundamental part of good health and safety practice is having people trained and proficient in things like emergency first aid. Having individual(s) trained and assigned to this role is one part, the other is ensuring that they are equipped with a fully stocked first aid kit at the event or session. 
If accidents happen, and this is a possibility, even when you try to mitigate the risk. It is advised you follow the 4 Rs: Reporting, Recording, Rubbish (disposing) and Restocking (the first aid kit). 
The severity of the accident may require you to report the incident to RIDDOR – the health and safety report for serious injury e.g. broken bones or major cuts.
Communication & Signage
Visibility and clarity are crucial for larger gatherings:
Emergency Contact
Establish a central information or help desk where attendees can report issues or seek information. Make sure there's clear communication about who to contact in emergencies.
Signage
Clear, easy-to-read signs are essential. Direct attendees to facilities, exits, and key event areas. This not only helps in smooth movement but also ensures safety, especially in case of evacuation.
Engagement with Local Communities
Building connections can enrich your event:
Local Businesses
Collaboration with local eateries, craft shops, or entertainment providers can add value to your event, supporting the local economy in the process.
Volunteers
Connect with local schools, colleges, or community groups. Engaging volunteers can help in various tasks while also fostering community involvement. 
One helpful resource is the local volunteering hub at Doing Good Leeds. They are the go to hub of voluntary, community and social enterprise in Leeds, and can offer support in hosting a good volunteering experience.
Making It Official – How To Notify Parks About Events
Ensuring your event is official isn't merely about having an approved permit. It's about the comprehensive paperwork encompassing applications, potential liability insurance, and adherence to park-specific norms, like appropriate waste disposal and abiding by designated timings.
These regulations aren't arbitrary; they ensure safety and enhance the experience for all involved. Moreover, for fitness camp organisers, legitimacies extend beyond paperwork. They must possess coaching badges, undergo DBS checks, and have liability insurance. 
Additionally, there's the challenge of incorporating equipment or using resources like music, ensuring they don't disturb wildlife or other park-goers.
Smaller Events
For smaller events, simple methods like sending an email to park authorities or filling out an online form might suffice. Make sure to provide all the necessary details and get a confirmation of receipt. 
You can begin the event submission process on the Leeds City Council parks and countryside online page. 
Larger Events
For more extensive events, apart from notifying the park authorities, there might be a need for on-site inspections, presentations, or meetings to clarify logistics, safety measures, and event execution strategies.
If your event is attracting a volume of participants and it is seeking to commercially make money then you will need to submit a larger application to the parks department. 
It is advisable to contact the Parks and Countryside Head Office in the first instance to discuss your activity on eventsinparks@leeds.gov.uk or Tel. 0113 378 8192.
Engaging with SAG (Safety Advisory Group)
For events of significant size or complexities, the Safety Advisory Group (SAG) can provide advice to ensure all safety measures are in place. Engaging with them early in your planning process can help you anticipate potential challenges and ensure you meet all requirements.
Their role is to advise and guide event organisers, ensuring that all potential risks are identified and mitigated.
Typical areas the SAG may provide guidance on include:
Traffic Management
Understanding how your event may impact local traffic and implementing necessary measures to manage this.
Crowd Control
Based on your expected attendees, SAG can recommend the best practices for managing large crowds, ensuring safety and smooth movement.
Emergency Procedures
Detailed protocols for potential emergencies, be it weather-related, medical emergencies, or other unforeseen issues.
Noise Control
For events with loud music or announcements, understanding the local noise regulations and how to ensure your event does not disrupt the local community.
Engaging with the SAG is not a legal requirement, but their expertise can be invaluable in ensuring your event runs smoothly and safely. This engagement can also help foster positive relationships with local authorities and communities, which can be beneficial for future events.
Sustainable Practices
With an increased emphasis on environmental consciousness, it's important to consider sustainable practices into your event. 
This could include:
Waste Management
Encourage recycling by setting up separate bins for recyclables, organic waste, and general trash. Ensure there's a clear plan for waste collection and disposal post-event.
Eco-friendly Materials
Opt for biodegradable plates, cups, and cutlery if you're serving food. Avoid single-use plastics and consider providing attendees with reusable items.
Local Sourcing
Collaborate with local vendors for food, crafts, and entertainment. This not only supports the local economy but also reduces the carbon footprint associated with transporting goods from afar.
Promote Green Transportation
Encourage attendees to carpool, use public transport, walk, or cycle. You can even set up bike racks or offer incentives for those who choose eco-friendly modes of transportation.
A Day to Remember
Success on the event day hinges on meticulous planning. From early setups to contingency plans for unpredictable weather, every detail counts. And most importantly you need to make it a memorable experience. To do this keep in mind the P.E.E.L approach of event delivery – people, emotion, engagement and legacy. This will get people there enjoying themselves and wanting to come back again.
After the Event
The event's conclusion is as crucial as its commencement. Thoroughly cleaning up, ensuring the park is left pristine, is a responsibility every organiser must uphold. Additionally, gathering feedback provides valuable insights, paving the way for improved future events.
Consider implementing feedback collection methods such as online surveys or feedback cards during the event. This can be useful to gauge attendee satisfaction, identify areas of improvement, and plan better for subsequent events.
Survey Monkey can be a great resource for this: https://www.surveymonkey.co.uk/
Helpful Resources