5 of the Best Walks Near Leeds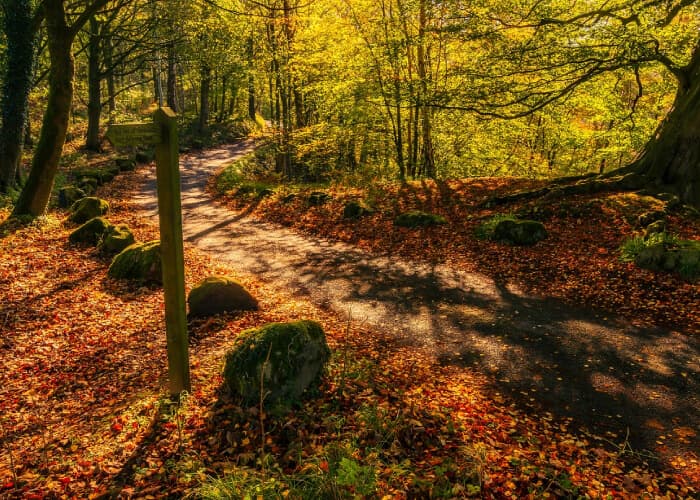 A loverly little ad break! Continue reading below.
It's safe to say that 2020 has been the year of walking. Amid lockdown in spring, we all took ourselves out for walks as a way of simply getting out of the house. So, whether you're a keen walker already or new to the hobby, here are five of the best walks near Leeds. 
Malham Cove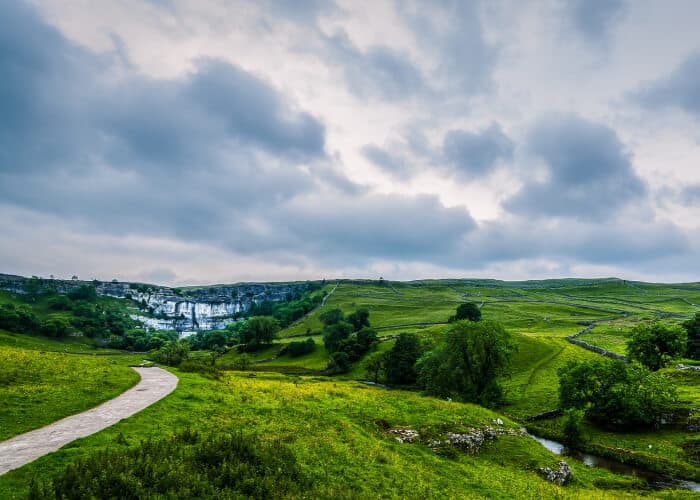 Have you even lived or least been to Yorkshire without a trip to Malham Cove?
One of the most iconic walking spots in the dales, Malham Cove is a popular route. There are plenty of paths you can take to make your walk either short or long. Plus, Malham Cove has even been featured in a blockbuster movie.
Yes, that's right, Harry Potter fans often frequent the limestone top of Malham Cove. That's because the famous eroded limestone pavement was used for a scene in the movie series' penultimate movie, The Deathly Hallows. 
While a nice little nugget of information, Malham Cove's main draw is the 260ft drop from the top. The view is stunning and overlooks the gorgeous dales countryside. Once you've enjoyed the beautiful views, you can make your way over the hills to check out two waterfalls – Gordale Scar and Janet's Foss.
Ilkley Moor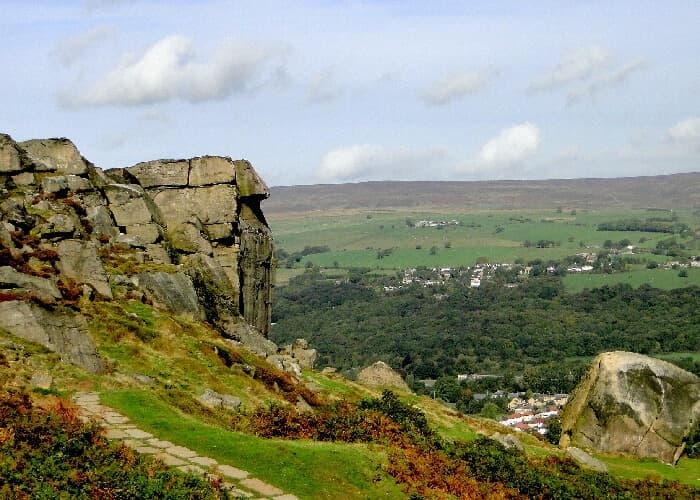 Ah, Ilkley Moor Baht'at. 
For a gentler walk a little closer to home, Ilkley Moor is perfect. Plus, there is even a pub, The Cow & Calf you can stop at for a hot drink or a pint – whatever takes your fancy. 
Ilkley Moor has a few different routes. Some only take an hour whereas others can be up to seven miles long. There's something for everyone. Most of the walks start from the Cow and Calf itself. These are two rocks famed by mythological and legendary stories.
The walks along the moor give a lovely view over Ilkley town and the surrounding rolling hills. Once at the top of the moor, you can walk across the grasslands to discover Neolithic sites and heather-filled grasslands.
More after this. Continue reading below ↓
Yorkshire Three Peaks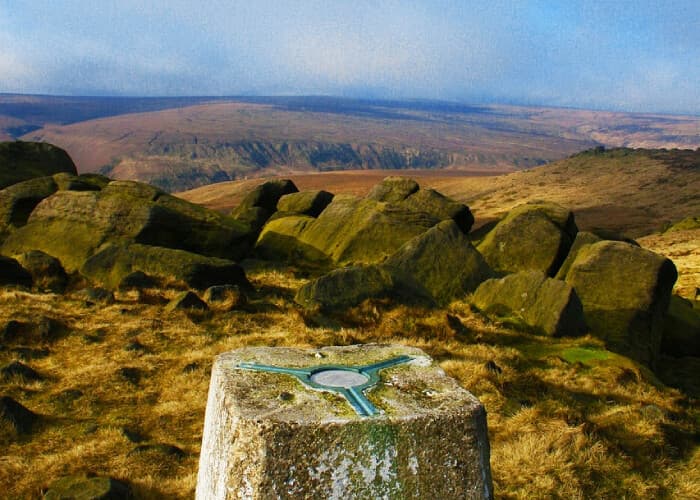 Of course, we can't go without mentioning the Yorkshire Three Peaks. 
While the acclaimed Three Peaks challenge is a bucket list one for any avid walker, it isn't for the fainthearted. The 24-mile walk includes 1585m (5200ft) of ascent and is to be completed in under 12 hours. 
The three peaks are made up of Yorkshire's three highest peaks including Pen-y-Ghent (694m), Ingleborough (723m) and Whernside (736m). Don't worry, you don't have to do all three at once – unless you want to. 
All three can be done individually and each offers a different view at their summits. The scenes are gorgeous offering the dramatic Yorkshire Dales landscape and the iconic Ribblehead Viaduct. 
Bolton Abbey trails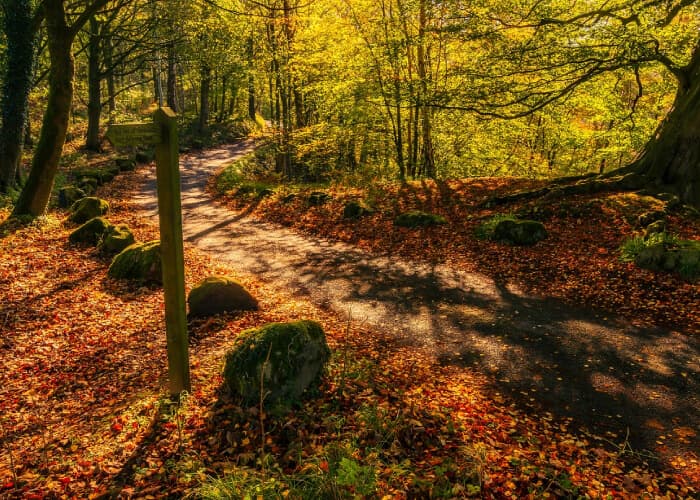 If hour-long hikes aren't really your thing, Bolton Abbey will be just the thing you're looking for. 
The walks within and surrounding the abbey itself are suitable for any level of walker. Just because these walks are slightly easier, doesn't mean there aren't beautiful Yorkshire woods and rivers to be found. 
In fact, within the ground of Bolton Abbey, you can stroll through one of the most visited woods in Yorkshire, Strid Woods. Renowned for the flora and fauna, bluebells flower in Strid Woods around April and early May, followed by wild garlic in bloom. 
Elsewhere, the Valley of Desolation is sure to amaze you. While the name is a little sinister, the waterfall itself couldn't be farther from its name. The cascading water offers a tranquil spot on the route to Simon's Seat, a rocky outcrop 485m above sea level. 
Old Cote Moor from Kettlewell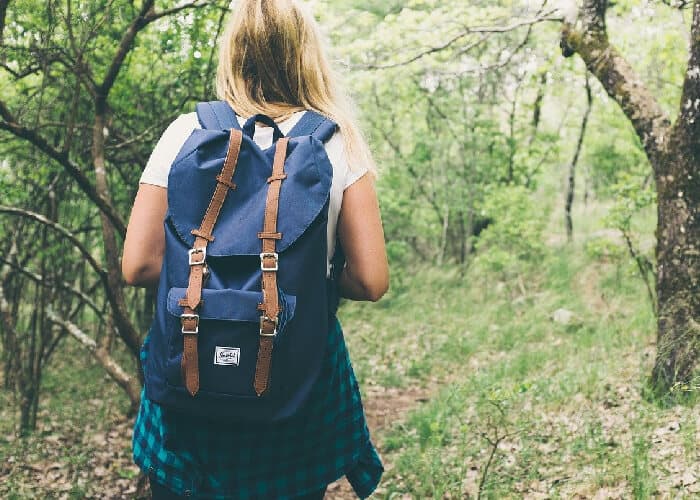 Maybe you want something a little off the beaten track? 
The Old Cote Moor from Kettlewell walk, while still popular, is a little less well-known. While challenging, the route is more than worth it. With fellside views that see you returning along the peaceful riverside from Buckden, this walk is a hearty 8.7 miles of isolated Yorkshire scenery. 
The walk sees you climb uphill through crags and back down the other side. Once there, you follow the river Wharfe through Arncliffe and Buckden before scaling up the Old Cote Moor at a different point. You then make your way carefully down and back to Kettlewell. At 509.6m, Ole Cote Moor is taller than most hill-based walks and is a great starter when training for the Yorkshire Three Peaks. 
There you have it, five of the best walks near Leeds. Have you tried any of these, or plan to? Let us know! 
Written by The Lifestyle Review