Christmas Events in Leeds 2020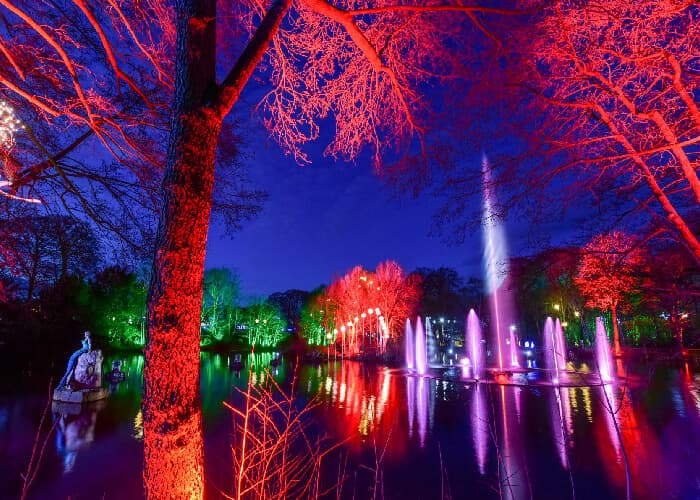 A loverly little ad break! Continue reading below.
With Christmas just around the corner, we are used to getting out and involved in the festivities. Some of the usual events and activities have been postponed until next year due to Covid. But Leeds is still going to crack on with a number of the more socially distanced events!
From local Christmas Markets, to art trails and light installations, there is so much to do!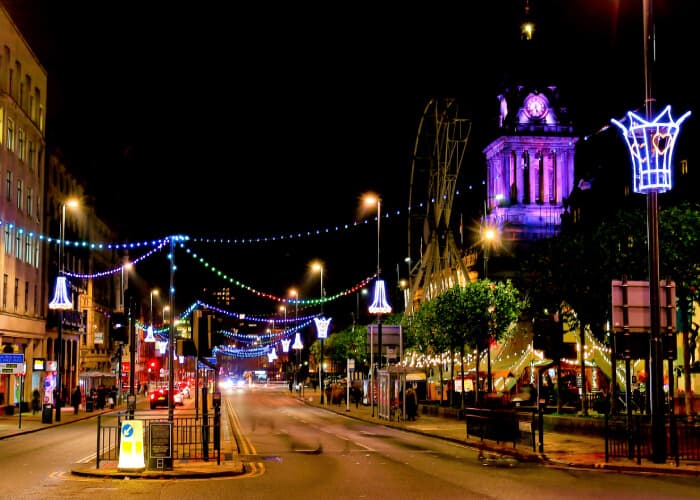 Leeds Christmas Art Trails
Christmas in Leeds this year is an arty one, with specially commissioned art all over the city and surrounding areas! If you are looking for a short walk around a neighbourhood, some festive cheers, and some nibbles along the way take a look at these! Here are some Christmas Trails hopefully near you.
Chapel Allerton Living Advent Calendar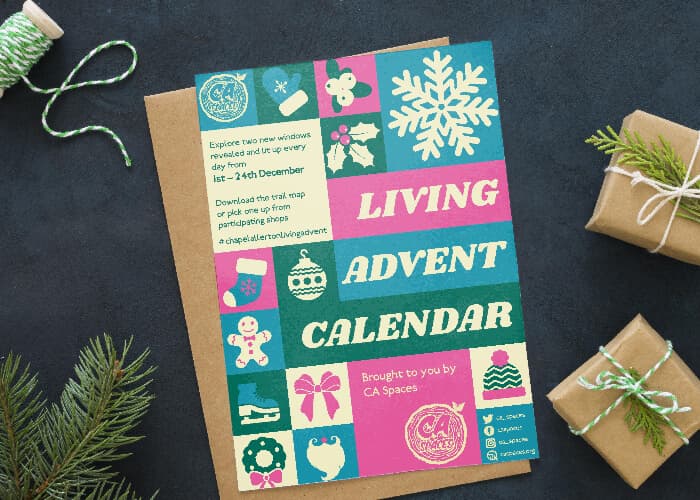 Businesses and residents have come together to create Chapel Allerton's first living advent calendar.
Two decorated windows will be revealed each day up to Christmas Eve. Windows will be unveiled at 4pm and they will be lit until at least 10pm. By Christmas Eve there will be 48 artistic windows lit around the area for you to explore!
There are so many great shops Chapel Allerton has to offer. Grab a drink or some food at the independent eateries along the way!
More info on Chapel Allerton Living Advent Calendar
Farsley's Christmas Advent Window Trail
Take a trip around Farsley and discover magical Advent Window displays dotted around the village – can you find every number? All windows will be lit at 7pm on Dec 1st and stay lit each evening until Christmas Day!
Kirkstall Village Advent Trail
Kirkstall has always had a reputation of having a creative community. Following the success of the Kirkstall Arts Trail, Kirkstall will be hosting its own Advent calendar trail.
Starting from the 1st December, homes and businesses will reveal a new scene every day. To ensure that you get a chance to see all of the art, the windows will stay lit until the 5th Jan 2021.
Rodley's Christmas Advent Window Trail
Take a trip around Rodley and discover magical Advent Window displays dotted around the village – can you find every number? All windows will be lit at 7pm on Dec 1st and stay lit each evening until Christmas Day!
Christmas Markets
Heaney and Mill Christmas Market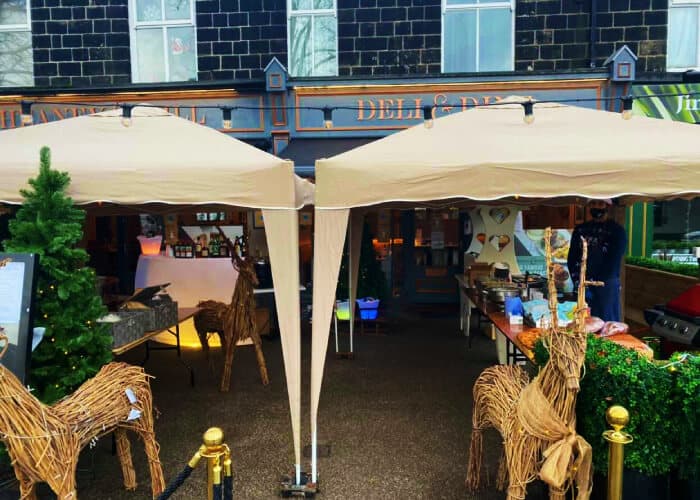 Located on Otley Road, this year Heaney and Mill have organised an outdoor Christmas market on the terrace of the restaurant and bar. From the 1st December they will sell takeaway food mirroring that of traditional Christmas markets, including schnitzels, burgers, bratwurst and churros.
It will be open from 10am to 8pm every day through December.
Visit the Heaney and Mill Instagram page for more information.
For more info on Heaney and Mill, see their page on Discover Leeds.
Leeds Kirkgate Winter Vegan Market
On Sunday the 13th, Leeds Kirkgate Market is running a unique Christmas event. Over 60 stalls will offer a variety of festive vegan produce, including Christmas cakes, mince pies and chocolate.
Admission is just £5 (under 16's free) payable at the door. 100% of any proceeds will go directly to animal welfare charities as the festival is fully volunteer ran. VIP tickets are available in advance from Eventbrite to include fast track entry and a goody bag full of products, samples, discounts and offers for £15.
For more information and tickets, visit the EventBrite page.
Leeds Virtual Light Switch On
This year the light switch on will be virtual for the first time ever. It will be occurring on Wednesday 2nd December at 6.30pm.
The event is free to watch on the Millennium Square YouTube channel and Facebook page. 
The Leeds Christmas Lights Switch-On will feature performances from John Newman, John Parr, local brother pop rock band The Dunwells, Britain's Got Talent semi-finalists Class Dynamix, Leeds band Hyde Park Brass and Leeds born singe Chante Amour. Cbeebies presenter Alex Winters and Carriageworks Pantomime legend Jez Edwards will also be joining with a '12 day of Yorkshire Christmas' sing-a-long together with an appearance from Santa.
Experiences
Some of Leeds more popular and well known locations are running Christmas events and activities leading up through the 12 days of Christmas.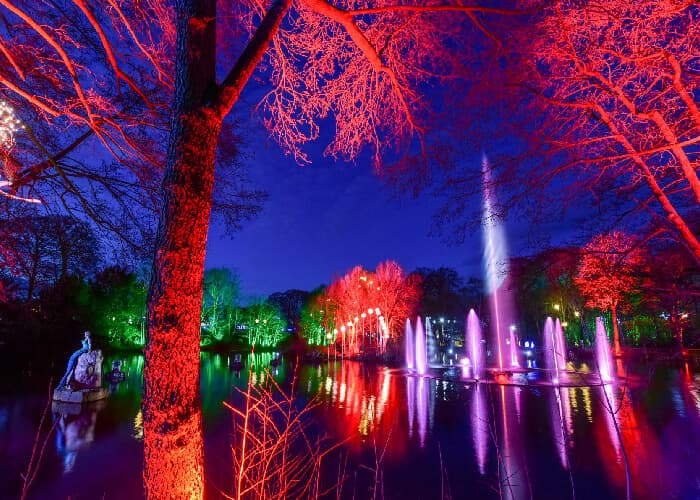 Christmas at Harewood House
Running from the 3rd – 18th December, Christmas is outside at Harewood House this year. Whilst the majority of the house will stay closed due to Covid restrictions, the grounds have been decorated beautifully. Walk around the Lakeside path, with a hot chocolate, or grab a drink from the Festive Hideaway.
For more information visit the Harewood House Website
Lotherton Hall Christmas Experience
The popular family attraction, Lotherton Hall has announced that Santa will be heading for the heart of Yorkshire this year. From 27 November 2020 to 3 January 2021, The Christmas Experience will return for its fifth year. 
Enjoy the interactive 12 Days of Christmas Woodland. Walk through the Captains Wood. Sing along and count the dancing ladies, calling birds and drummers drumming as you wander through. How about visiting Santa 'Under the Wishing Tree' in the Elf Village where everyone can enjoy a cup of hot chocolate or a warm snack under the twinkling canopy?
Tickets on sale at The Christmas Experience.
Stockeld Park Christmas Adventure
Experience one of the country's largest and most creative light displays set in the grounds of the historic Stockeld Park Estate. Watch the Enchanted Forest come alive after dusk with the famous winter illuminations!  As dusk falls, see the park come to life with thousands of twinkling lights creating a magical winter wonderland. 
How about visiting Santa here? Everything is set up so that your visit will comply with all of the latest social distancing guidelines.
Tickets on sale on the Stockeld Park website.
A Winter's Trail at Skelton Grange
A magical winter trail, wandering through the candle lit woods and gardens at Skelton Grange. Catch glimpses into the secret worlds of the little folk who reside there and find your way to the campfire for a warming drink and gingerbread. Tickets are needed for all adults and children attending the event, but babies are welcome free of charge…
For more info and tickets visit the Eventbrite page.